***HONEYΦ *** Festival für Hedonismus und Betonkultur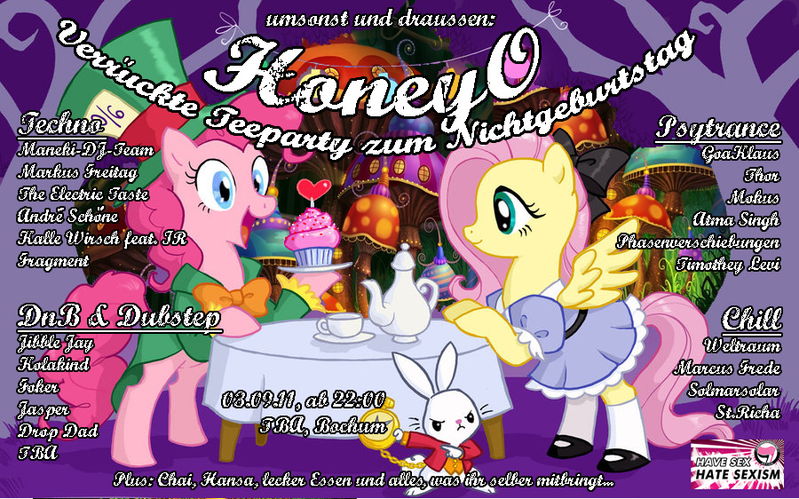 ***ohne ende DJ´s auf 4 Floors***
PSYCHEDELIC TRANCE - DRUM & BASS - TECHNO - CHILL & AMBIENT
+Psychedelic Krautrock Band ( WELTRAUM ) Soest
[weltraum-music.com]
LineUp Psychedelic Floor:
DJ´s
Abfahrtszeiten:
22.00 - 00.00 Analog Psycho (Live & DJ set)
soundcloud
00.00 - 02.00 Feel X
soundcloud
02.00 - 04.00 Moogli
moogli der psylopath
04.00 - 06.00 GoaKlaus
06.00 - 10.00 Phasenverschiebungen & Anatta zeno.rec (Live & DJ set)
[myspace.com]
&
soundcloud
10.00 - 12.00 Ramses
12.00 - 14.00 Atma Singh
14.00 - 16.00 Mokus
party photo
16.00 - 18.00 Wojtek
18.00 - 20.00 Drag[On]
soundcloud
***STEHT!!!***
LineUp DrumnBass Floor:
Foker
Jasper
Kolakind
Jibble Jay
LineUp Techno Floor:
Maneki- DJ-Team
Margus Freitag
The Electric Taste
Trippel Tom
Andre Schöne
Kalle Wirsch feat. Renfield
Kalle Wirsch
feat.
soundcloud
Fragment
LineUp Chillout:
GoaKlaus
[hotfile.com]
Kurt Knebel´s Talkradio...mit stuhlkreis für feiergeschädigte ;)
Arvid
Mokus
Solmarsolar - St.Richa
***LineUp ist voll und die Tage vollständig online***
Deco
Deco
Kristalldekoration mit schwatzlichtaktiven Tüchern,- String Art´s,- Spacelight´s und viele anderen Gimix.
Info
Hedonismus
(von altgriechisch ἡδονή, hēdonḗ, "Freude, Vergnügen, Lust, Genuss, sinnliche Begierde" Wortbildung mit dem Suffix -ismus) bezeichnet zumeist eine philosophische bzw. ethische Strömung, deren Grundthese lautet, dass einzig Lust bzw. Freude und die Vermeidung von Schmerz bzw. Leid intrinsisch oder final wertvoll sei(en). Im Gegensatz zu dem philosophischen Verständnis wird im alltagssprachlichen Gebrauch mit dem Begriff Hedonismus häufig eine nur an momentanen Genüssen orientierte egoistische Lebenseinstellung bezeichnet. In diesem Sinne wird der Begriff Hedonismus oft abwertend gebraucht und als Zeichen der Dekadenz interpretiert. Unter der Bezeichnung "psychologischer Hedonismus" wird eine deskriptive Position verstanden, deren Grundannahme lautet, dass der Mensch final einzig nach Lust bzw. Freude strebt.
**********************************************************************************************
***INFOS RUND UM DAS FEST***
Wir feiern in lehrreicher Betonbauten mit natürlicher Abwechslung im dazugehörigem Park mit Waldatmosphäre. Mit 4 Floors wo ihr euch entscheiden könnt zwischen:
PSYCHEDELIC TRANCE *******( 2x1kw PA system auf volllast bei top soundqualität***BOOOM*** ;)*******
mit Druckvollen Sound´s in der Nacht und schwungvollen Beats am Tage in bunter Waldstimmung! BOOM
CHILL & AMBIENT begrüßt euch mit einer psychedelischen Krautrockband "WELTRAUM" aus Soest mit min. 4std spielzeit. Dann kann man bei Ambient und Chillout etwas entspannen, einen Chai trinken oder einen guten Imbiss geniessen.( Angeboten wird unter anderem legga Vegane Linsensuppe )***Bringt eure Trommeln mit*** Trommelworkshop wird angeboten! Auch hier eine waldige Stimmung ;)
DRAMnBASS läd euch zu Dubstep, - Brakebeats,- Brakecore and vielen anderen experimentellen Sounds bei cooler Brückenatmosphäre ein!
TECHNO Techno, - Minimal, -House unter gradlinien mäßiger Lehrreicher Bodendekoration.
***FARBENRAUSCH***
Shop für Klamotten, Schmuck & Deko aus Indien & Nepal.
[facebook.com]
läd zum Kaufrausch.
********************************************************************************************
Das ganze ist in erster Linie eine Fusion verschiedener Szenen die für Hedonisten, alberne, Spaßvögel, Denker und Träumer und allen die sich für die Sache interessieren eine frei Party veranstalten. Doch ergeben sich ein paar Unkosten, daher bitten wir um eine kleine Spende! Wenn es noch Ideen gibt, die Ihr miteinbringen möchtet, dann kommt einfach schon früher auf das Fest und tragt euren teil mit bei! Eventuelle Zeltmöglichkeiten sind vorhanden! Auch genügend Liegewiese für eure Decke. Wir bitten euch mit der Natur und der Betonatmosphäre sorgsam umzugehen und euren Müll nicht Rumliegen zu lassen und ihn in die dafür vorgesehenen Mülltüten zu werfen - DANKE!!!
Wir freuen uns euch auf dem Fest Bergrüssen zu dürfen!
Location
Location
***Party auf dem BochumerCampus-West Unigelände***
[google.de]
~~Mit der Bahn:
Von BochumHBF mit der U35 richtung Bochum-Hustadt bis Ruhr-Universität, dann richtung CampusWest.
~~Mit dem Pkw:
Von der A40 Kreuz-Bochum (38) auf die A43 richtung Wuppertal/Witten abfahren, dann bis Kreuz Bochum/Witten (19) abfahren und richtung BO-Querenburg - BO-Querenburg volgen nach 1km abbiegen auf die Universitätsstraße abfahren und lings halten. Parklatz suchen!
***Gute Reise ;)***
Entry fee
Entry fee
nach Spende.....