Fantastic Infinity vol. 9 w/ BLiSS amm.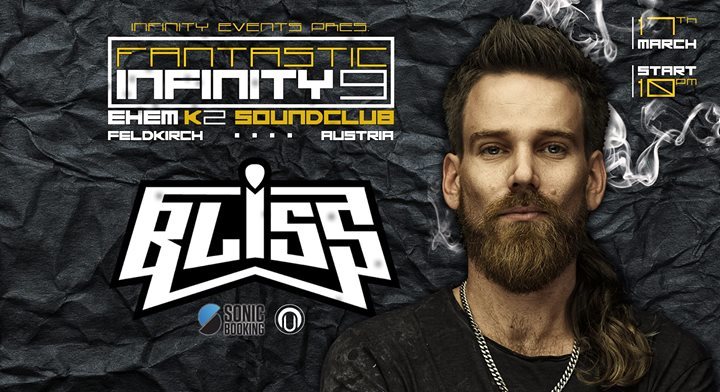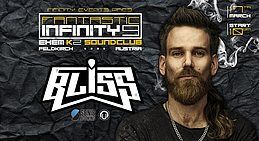 Line Up
◼️◼️◼️◼️◼️MASTERS OF CEREMONY◼️◼️◼️◼️◼️
✖️LIVE
● BLiSS ● ISR
Nutek Records
[facebook.com]
[nutekrecords.com]
[sonicbooking.com]
BLiSS is the internationally acclaimed musical production project of Israeli based musician, Yonatan Marcow.
Throughout his childhood Yonatan's life was revolved around music and throughout his youth he has been an active member in various rock & metal bands. At the age of 16, with already a strong guitar background Yonatan discovered the art of electronic music and was immediately captivated by it.
In 2003 Yonatan's solo project BLiSS came to life and in 2005, after a couple of years in the studio polishing his sound, his debut album 'The Rythmus Gene', came to light and was released by UK based Phantasm Records. The album was a huge success and was fast adopted by leading producers & Dj's who featured the track on their set. A bountiful international performance schedule than followed and it has just been getting stronger ever since.
BLiSS is also involved in various collaboration projects including Azax BLiSS & A-Team (with Azax & Painkiller).
BLiSS signature print sound and his uncompromising production level has taken his project to the biggest and most demanding stages worldwide.
BLiSS is a true performer known for his energetic live guitar sets and his close contact with the crowd.
With over 120 successful concerts in 2017 alone BLiSS is considered as one of the hottest producers in the global electronic music scene. BLiSS headlines the world's most demanding stages including recent performances such as: Tomorrowland (Belgium), Earthcore (Australia), World Trance Festival (France), BAT XI (Argentina), Fantastic Festival (Mexico), Tribe (Brazil) to name just the immediate few.
In his homeland, Israel, BLiSS is considered a household brand with performances ranging from club venues, open air festivals to large scale municipalities & commercial companies events.
✖️ ON THE TURNTABLES
● HYPNALOGIC ● LT
T-Spirit
[tspirit.eu]
soundcloud
● ATAVUS ● AT
Infinity Records
[facebook.com]
● KLANG SIGNAL ● AT
Infinity Records
[facebook.com]
● RADICALI ● AT
Chaos Company | Infinity Records
[facebook.com]
● ELECTRIC NOIZE ● AT
Infinity Records
[facebook.com]
● MAGMASONIC ● AT
Infinity Records
[facebook.com]
● TERRAFORM ● AT
Independent
● NAMAR ● AT
Independent
Info
◼️◼️◼️◼️◼️ INFORMATIONS ◼️◼️◼️◼️◼️


● OUTDOOR CHILLOUT AREA ●

● FIREPLACES ●

● TAKTISCH KLUG ● Eventbegleitung

● SKALAR-SHOP ●
Location
Location
ehm. Saloon, Im Kratta 2, 6800 Feldkirch
Entry
◼️◼️◼️◼️◼️ ENTRY-FEE ◼️◼️◼️◼️◼️
✖️VORVERKAUF
● 19,00 Euro ●
Vorverkaufstickets sind bei allen Vereinsmitgliedern sowie bei jeder Veranstaltung im ehem. Saloon erhältlich (einfach beim Eintritt nachfragen)!!!
Sowie bei allen Sparkassen und laendleticket.com Vorverkaufsstellen.
● Vorverkaufsstellen ●
[laendleticket.com]
● Online Vorverkauf ●
[laendleticket.com]
✖️ AT THE GATES
● 25,00 Euro ●
Geburtstagskinder [17./18. MÄRZ] haben freien Eintritt
Einlass ab 18 Jahren!!
No Kids - No Drugs - No Dogs
Organizer
Organizer
Infinity Events
Added

3y 6m

· Update

3y 6m

· 1