Backend
GAGGALACKA OA 2007 ~ a psychedelic farm experience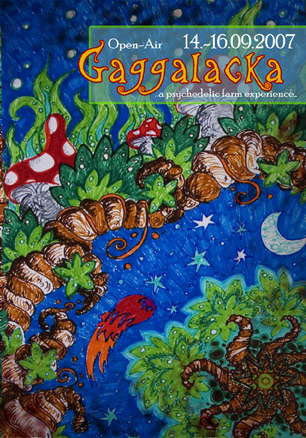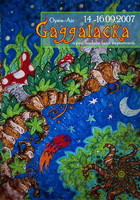 Info
This willbe the third issue of the final German summer dance session close to Berlin...
With a real psychedelic lineup from many countries we will touch every freaky taste...
An combination of lovely decoration and a collaboration of really openminded
and coloured people makes this music farm to a real psychedelic fairytale experience...
the best to conclude the summer...
Für dieses Jahr haben wir uns viele neue neckige Dinge ausgedacht, die das Märchen noch bunter gestalten werden. Schon als Opening wird Euch eine Theater-Performance THE AGE OF KALI vorgeführt mit anschliessender Dancefloor-Reinigung mit einem Mantra, was all Eure Sinne Kraft und Energie für das gesamte Weekend geben wird. Es lohnt sich absolut, schon Freitag ab 20 Uhr da zu sein...
An den Aufbau der Musik haben wir diesmal sehr gepfeilt und wir hoffen, dass mit dem diesmal sehr internationalen LineUp für jeden freaky Taste etwas dabei sein wird.
Die Samstagnacht wird auf dem Mainfloor sehr kochen, das versprechen wir Euch. Der belgische Liveact WHICKED HAYO freut sich schon, Euch alle mit seinem Sound "CRAZY" zu machen. Wem das zuviel wird, erwartet Euch im *Chill-Thrill-Kill-Out*, der sogenannten Alternative zum Mainfloor, ein OldSchool-Goa-Set sowie ein sehr schön treibender Liveact von SOLAR SOUND NETWORK, die Euch mit Gitarre, Maultrommeln und viel mehr eine audiovisuelle Performance bieten werden. Übrigens werden wir diesen Floor auch nach draußen verlegen, mit der Hoffnung auf schönstes Wetter...
Leider musste unser Main-Liveact HYDRAGLYPH sein Booking auf der Gaggalacka aufgrund von Visa-Problemen absagen... es ging kein Weg rein, wir haben darum gekämpft, dass es diesmal endlich klappt... wohl nicht so einfach für SüdAfrikaner!
Dafür wird aber SCORB zum Sonntagmorgen einspringen und eine 100minütige Killer- Live Performance darbieten... neue Sounds hat er auf jeden Fall genug am Start, hört mal hier:
[trickmusic.com]
- auf jeden Fall ein Musiker vom Herrn! Wir sind stolz, ihn dabei zu haben!
Als SURPRISE ACT hat sich RANDOM aus San Francisco ergeben, der das erste Mal in Germany live spielen wird...
[myspace.com]
Dazu noch viel viel mehr... um das alles Euch zu umschreiben, würde die Ausmaße eines Märchenbuches einnehmen... daher sagen wir einfach... ERLEBT ES und kommt vorbei...
Es wird sich aber immer noch einiges tun, die Hexenküche der Gaggalacka ist sehr am Brodeln...
SPECIALS:
2 LAKES close to the location - 10 min. to walk
FOOD, CHAI- & SPACEBARs
spacy SHOPAREA
RESPECT THE NATURE
PLEASE NO DOGS
PERFORMERS ARE VERY WELCOME
LINX:
[gaggalacka.de]
*
[myspace.com]
*
[isratrance.com]
* TIMETABLE *
psychedelic stage
friday
20.00 THE AGE OF KALI - PERFORMANCE + DANCEFLOOR CLEANING
23.00 SON OF NYX vs. TAPAS
saturday
03.00 CANNIBAL CROW
04.30 ZAIDAN (BRAZIL)
07.00 BONFIRE
09.00 PSYDAN
11.00 KNIZPEL & LU
13.30 METRON
15.30 SUBJECTS IN PSYCHOSPACE
18.00 SHAKESPHERE LIVE
19.30 PSYKAHOLIKS
22.00 RANDOM LIVE (USA)
23.30 DJane SHIMA
sunday
01.30 SNACKSHOP LIVE (SWISS)
03.00 DJ ANT
05.00 WHICKED HAYO LIVE (BELGIUM)
06.30 DAKSINAMURTI
09.00 TV & DJane NEM (SPAIN / CZECH)
12.30 SCORB LIVE (UK)
14.00 DJane MIAZU (FINLAND)
16.30 MERRY:)
18.30 PROTONICA LIVE
19.30 DJane AKBAL (HOLLAND)
22.00 MOARICE
*** if CHUHA will be back from INDIA... then we will change the timetable!
chill-, thrill-, kill-out:
saturday
00.00 NESJAJA
03.00 SACRED AYIN
06.00 DJane DEVA
09.00 BABO DON GMORK
12.00 UNKRAUT DELUXE
15.00 KATJA´s MÄRCHENSTUNDE
17.00 DIE BEHÜTETEN
21.00 DOC SCHOCK
23.00 VC META & BERNHARDT
sunday
02.00 SOLAR SOUND NETWORK LIVE & DJ
06.00 PAT-T & JUS10
10.00 LIESE
16.00 TAPAS & TATONKA
20.00 LÖWENHERZ
23.00 MERRYSPACE
Ready to be gagga? See ya at the dancefloor! Pray for sun!
merry:) & die Gaggalacken
Location
Wahnfried´s base - a fantastic farm between Berlin and Dresden
03116 Drebkau - Göritz // Brandenburg
the route (from Berlin):
with car: A 13 Berlin - Dresden > exit Calau > in Calau right in direction to Senftenberg > left in direction to Drebkau - after ca. 7 km right in direction to Reddern; after Reddern left little road (in direction to Pritzen); then again strong left to the asphaltroad and then go ahead till Göritz (green shield) and further till the end of the road (T cross) … follow the signs :)
a shuttle goes from DREBKAU > LOCATION and LOCATION > DREBKAU
from friday 12.00 till monday 18.00
Phone Frank´s Shuttleservice: 0173/8190286
local taxi number: 035751 12266
Auskunft Deutsche Bahn:
[bahn.de]
Entry
Presale:
15 Euros (bis 14. September)
at TRIBALTOOLS
[tribaltools.de]
Lychener Str. 10, 10437 Berlin
Fon: +49 (0)30 351 021 03
at Gate: 20 Euros
+ 5 Euros Müllpfand pro Auto // garbage deposit per car
and 5 Euros more with a CD from OXYGEN RECORDS
[oxygenrecords.com]
at the gate - thanx to TV & DJane NEM!
Organizer
Organizer
die Gaggalacken