ANIMA MUNDI - TRANCE PARTY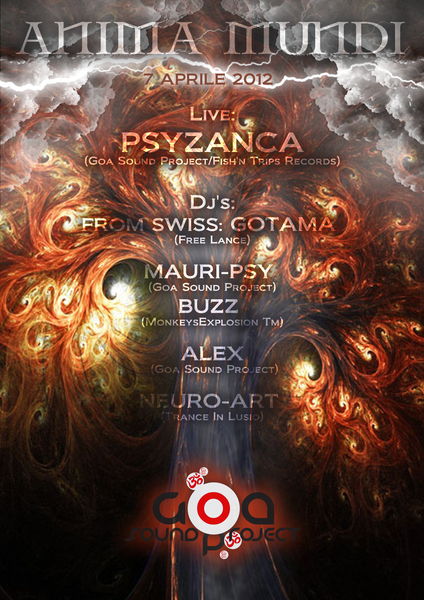 Live
Line Up
PSYZANCA (Goa Sound Project/Fish'n Trips Records)
soundcloud
[facebook.com]
[facebook.com]
Psyzanca is Michele Zancato, a psytrance producer from Padua, Italy. Psyzanca's debut releases were his two tracks "Unreal Reality" and "Copyright Violation " which both appeared on the Twisted Mysteries 1.5 compilation released in April 2011 via Fish 'n Trips Records. The Psyzanca style represents the borderline between full on and darkpsy, always powerful, laden with pounding kick and basslines often with some melody, then all bought together into balance with gnarly break downs and re-entry's. With only 2 years production behind him, Zanca is set to make a strong mark on the global psytrance community with his relentless beats and dedication. He pushes listeners towards a state of delirium where his boundaries are beyond the edge of the universe, in the space between spaces.
.
FROM SWISS :
GOTAMA (Free Lance)
[facebook.com]
I began to get interested in the nineties to the phenomenon of electronic music and had already chosen the name of Gotama, from the book by Hermann Hesse. At the beginning, I did kindly provide the material to train (well taken care of that material provided to me, and this without breaking it) and then, buy for myself the first gadgets to enhance playing. My first steps in music, I took them slowly, and then arrive at good levels. For me, music means, knowing escape in all directions, and lighten the burdens of life, but also the knowledge and creativity to express itself in many other people dream.
Antoine (Anthony) Tortora aka Dj Gotama, born 30 May, 1975 in Switzerland
BUZZ (MonkeysExplosion Tm)
[facebook.com]
NEURO - ART (Trance In Lusio)
[facebook.com]
MAURI - PSY (Goa Sound Project)
[facebook.com]
ALEX (Goa Sound Project)
[facebook.com]
*** LiNe Up ***
00.00/01.00 Alex
01.00/02.00 Neuro Art
02.00/03.00 Mauri Psy
03.00/04.00 Buzz
04.00/05.30 Psyzanca (LIVE)
05.30/07.00 GOTAMA
.
Info
Info
============= Please: ===================

NO PUSHER NO DRUGS and RESPECT FOR ALL!!

OnLy GoOd ViBeS aNd PsYtRaNcE pArTy EnJoy !!!

=======================================

.
Location
Location
TACU TACU Music Zone - Via Galileo Galilei 40 - Mestrino (PADOVA)
Entry fee
Entry fee
TESSERA ( A.I.C.S ) OBBLIGATORIA :

Fino alle ore 01.00 Ingresso euro: 5

Dalle ore 01.00 in poi Ingresso euro: 10

INOLTRE PER I NUOVI TESSERATI 1° CONSUMAZIONE IN OMAGGIO !!!
.
.
Organizer
Organizer
˙·٠•●ૐ GSP Organization ૐ●•٠·˙