Zuvuya III: The Gathering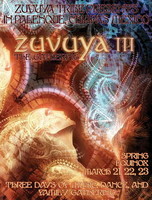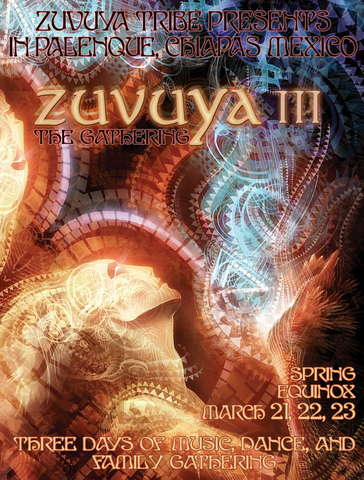 Live
Line Up
-URSULA RAUH (live performance painting - USA)
[ursularauh.com]
-RAS INDIO and THE BRIMSTONE FAMILY (reggae dancehall - indigenous productions, BELIZE)
[myspace.com]
-live fire dancing
-workshops and more
There will be one main stage to focus the energy, dance and intention, moved by:
-ECLIPTIC (psytrance - maia records, MX)
[myspace.com]
-SHARIGRAMA (psytrance - interface records, MX)
[myspace.com]
-ODISEO (progressive trance - iboga records, MEXICO)
[myspace.com]
-AKBAL (turbo trance - FrakaSound, NL)
[myspace.com]
-MATTE (psytrance - utopia records, ITALY)
[myspace.com]
-SOLAR (minimal progressive psy - zenon records, MX)
[deliria.org]
-TEXTUREMAP(tilasmat - MX)
-PSYJACOV (dark melodic groovy trance - OhmVision, ITALY)
-DANTALION (frakal krew, GUATEMALA)
-MOTTIL (hypnotic tech trance- Tribal Records, ISRAEL)
[myspace.com]
-MANDALA (tribal progressive -AWLgatherings, USA)
[soundclick.com]
-XANTI (breakbeats - guate gaia tribe, GUATEMALA)
-LUNAR SOUND (chill - zulu lounge, MX)
[myspace.com]
-WORLDBRIDGER (house, tribal - zuvuya tribe, USA)
-ROC.SHABDA (minimal dub,chillout - zuvuya tribe, SPAIN)
-MIKEN (dub glitch hop - peace love and light productions, USA)
[myspace.com]
-MOnkey (funky tribal progressive - zuvuya tribe, USA)
-MORDA (drum n bass - ninja nation)
- and more to come!...
more information to be annouced at:
tribes.tribe.net/zuvuya or
goabase
Chill
WORKSHOPS: There will be various workshops, talks and forums during the day. Yoga, meditation, dance, sacred geometry, sacred use of entheogens + planetary change and more to be announced.
Info
ZUVUYA TRIBE PRESENTS
3 days Music, Dance, and camping
PALENQUE, CHIAPAS
MEXICO
(exact location to be announced)
ZUVUYA 3: the gathering
Spring Equinox
March 21,22,23
INTENTION:
We come together to dance and create. Raising
vibrations, remembering who we are and why
we have come here. Overcoming fear through
creativity. Riding the great wave Zuvuya, returning
to the dream time where we began.
HISTORY:
Zuvuya began in 2004, in Dominical, Costa Rica. There were about 30 people that synchronistically collided with a similar vision. Zuvuya manifested itself during the week of Santos Semana that year. There were over 500 people together for one week making powerful magic. It was realized at this time that this was only the begining. Zuvuya must spread its wave over the planet activating people and places into this higher vibration.
SInce Costa Rica we have been to Lago Atitlan, Guatemala. We have been to Chios, Greece. We have also been to Thailand and India. Now it is time to awaken the Zuvuya Tribe again. Thus we go to Palenque, Mexico to continue these activations.
Welcome to the dreamtime.
***This event is a communitary proposal. Depends on all participants to make this an elevating experience****
We invite you to bring your creativity to the event, whatever form it may manifest: disguise, games, toys, paints, juggling, music… or whatever form of interactive art.
If you have any proposal or you would like to participate actively, whether it is with your project or as a volunteer please write to:
zuvuyathegathering@gmail.com
See you soon!
Blessings,
Zuvuya Production Team
For Updates and MAP check:
[tribe.net]
The location MAP is published on this link now!
Stay tuned!
-_-_-_-If you wish to receive updates on this gathering, join the mailing list. Symply send a mail with "mailing list" on the subject to our account and we'll send you news-_-_-_-
***We must inform you that there was a little communication mistake on the flyer, and to avoid misleading we clarify the issue. Food and drinks will be available at the event to buy. They are not included in the entrance fee. The camping on the land of the event is included, though you may need to bring your own tent, hammock and shading structure, (though there is trees).
***Water for washing plates and washing your hands and face is available. Sorry about the confusion. We are working on arranging the best service possible within our limitations. Thank you for your understanding and compassion.
***If you wish to have a more comfortable experience there are several campings nearby, but due to the Semana Santa, they will be pretty full, so you need to make a reservation in advance.
Bliss
[myspace.com]
Location
PALENQUE, CHIAPAS
MEXICO

MAP is posted now on tribes.tribe.net/zuvuya
Entry fee
TICKETS: $350 MXNpesos (or $33 USD)
sold at gate
includes 3 days camping.
water provided
PRE-SALE TICKETS AVAILIBLE!
-with PayPal account: $25 (USD) or $270 (MXNpesos)
-MUST PRESENT PayPal transaction # AND current photo ID at gate to obtain admittance to event.
-
[paypal.com]
to purchase pre-sale ticket.
food and drinks availible
This is a party with not a money focus. We count on a minimum donation at the door to cover basic costs within the organization of the event. Most of the artists that make this happen are giving their time, energy and art in exchange of the minimum. We want to take this moment to thank them all, collaborators and friends who bring their in their confidence. Without them this would not be possible.
In the case the event produces extra economical income, it will be shared in a fair and equal (egalitarian) way, according to the energy invested, between the participants, artists and helpers. We hope with this to nurture the local community of the place and surroundings and the artists.
The first income will be destined to donate the generous elders who share their land for this to be possible. We are entirely thankful to them.
If you do not have the money to come in, may that not be a limit for you, we have many volunteering options.
*
VOLUNTEERING:
contact
zuvuyathegathering@gmail.com
or
ohmvisiom@gmail.com
Added

15y

· Update

14y 10m

·