Goabase Party Finder 0.9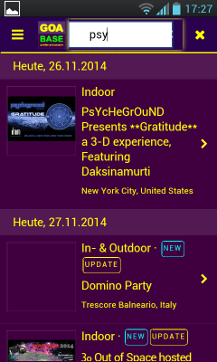 Using Goabase Party Finder you can locate any party in your area or in any town on your smartphone. You may also search for a party via event name or line-up.
Version 0.9 is in german language only, the multilingual (english) version comes as soon as possible.
The app can be used by anyone, you don't need to have an account on Goabase.
Goabase Party Finder imports party data from Goabase and displays a list of upcoming parties with name, flyer and location. Just tap a party and further infos as line-up and exact location with optional Google map and navigation will pop up.
Goabase Party Finder works with or without GPS and it does not access any other areas of your smartphone. Using GPS, you can open "My Location" immediately, otherwise you can pad the search symbol to enter an exact location name.
In difference to usual Goabase, with Goabase Party Finder an individual radius of kilometers can be selected.
The App was developed by Foob (Fabian E.). The project took many months as many details were to be considered mutualy. The current version is free of advertising. However, this may change in the future, in order to finance future development.
For all technically interested: It's a App based on PhoneGap/Cordova working with all Android versions. Data is imported through JSON, see Party Events in JSON.
We are so curious what you might thinking about! :)
You get it here:


Screenshots