Your advertising on Goabase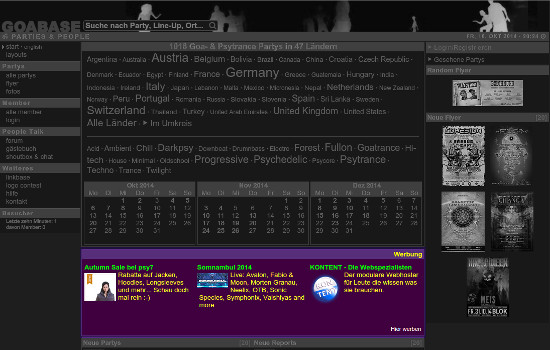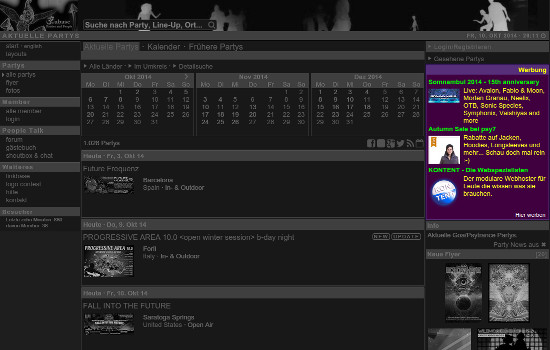 New since Nov 2015: Newsletter Order
Since 1997(!)), party organizers have been entering Goa- and Psytrance Parties on Goabase. Goabase can be accessed by everyone. It's a reliable source and for many searching a party worldwide, an important first contact point.
You access "Fans of the scene", party guests, DJs, organizers, musicians, graphic designers, when placing an ad here.
Some infos: Ads are displayed around two million times to real visitors (bots and search engines see no advertising). There are three spots provided (across start page, otherwise on the right). Daily price is very competitive, ranging from 1.5 € to 2 €, depending on daily visitors and on demand. Cost of a click is also very competitive, ranging from 0,10 € to 0,20 €, depending on subject, image and text.
Especially Ads for parties, closing, events, music websites and technology offers are very successful.
It's all quite simple
:
Register as Goabase-Member.
Generate (without any commitment) a so-called campaign (there, an entry of title, address, etc. can be carried out).
After saving, you create an ad-campaign, consisting of one ore more Ads (if required).
When everything is to your satisfaction, you order your campaign.
After that, you receive an invoice (PDF-file) via e-mail.
As soon as payment has been received, the campaign will be authorized.
There are many options to test out. It takes about 15 minutes to go through FAQ/Help.
Note: No Ads for Head-, Smart-, Growshops, "Seminar-Work", pyramid schemes will be accepted.
Have fun testing, if there are any questions, just send a personal message. Or, should you not be a member yet, just send an e-mail via contact.
Thanks!
amalesh